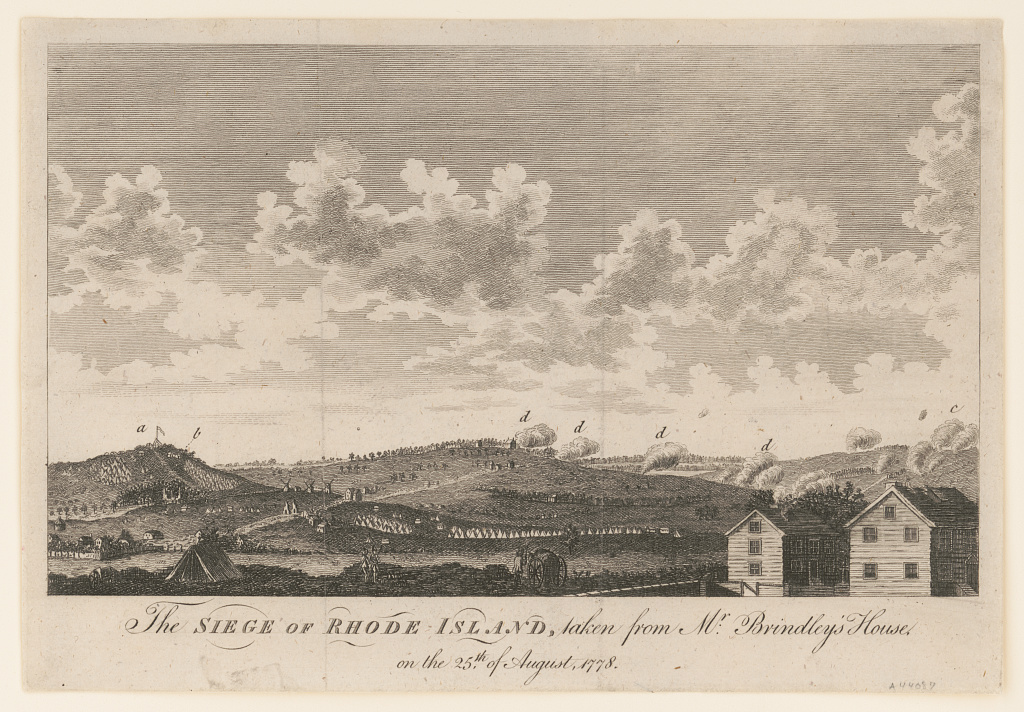 "The Siege of Rhode Island."
Dick Brattle, a formerly enslaved man living in Bellingham, approached Amariah Frost Jr., a lawyer and judge, who was busy in his Milford garden. One of his plots, located between the local minister's saltbox house and the barnyard, and in front of Frost's shop, was along today's West Street [see Frost map] [Ballou 579], close to the Meeting House where the senior Frost, the local minister, officiated. The younger Frost was likely tending mostly to his onion plants (Frost, Jr.), which he often sold and traded, along with other vegetables, spirits, vinegar, meats, legal services and more (Frost, Amariah) in exchange for labor, for use of horses for travel, and for other items and service needed.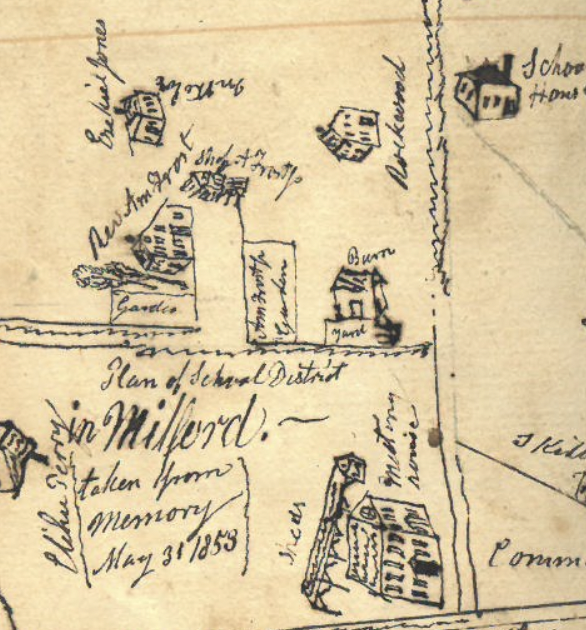 Dick knew Amariah although they had never spoken before. It is believed his wife, Lucy Rose, may have been owned by the Reverend Frost (Ballou 600) at one time. But Dick was in Milford to help a friend, Bess Corbett (Mass.). They had much in common, both having been slaves of African descent at the same time to different owners in the neighboring town of Bellingham.
Once Dick succeeded in gaining Amariah's attention, as he recalled years later, stated,
"Bess[Corbett] is now free by the [Massachusetts] Constitution."
The minister's son's response?
"She was given to my wife by Doctor Corbett. She is better off to continue with me rather than go out into the world" (Mass. Archives).
As a Harvard graduate and also a practicing lawyer, Frost was not an outlier as an enslaver. Ministers, doctors and lawyers in the North were often guilty of enslaving people to work family farms, giving them the freedom to pursue their professional obligations. And not surprisingly, slavery continued in Massachusetts after Amariah and Dick had their conversation in the 1780s. Thankfully, slavery's back was soon broken, but it was not officially outlawed until the Emancipation Proclamation. As for Bess, she was eventually freed, about five years after the interchange between Dick and Amariah.
When and how did Dick Brattle come to believe that Massachusetts slaves were given their freedom?
When asked who informed him that slaves were free by the [Massachusetts] constitution, he said,
"Esquire Metcalf."
This is a likely reference to Stephen Metcalf (Metcalf) of Bellingham, a local lawyer, surveyor and farmer. Metcalf's home still stands to this day (Crimpville). Unfortunately, the land where the farm once stood that Brattle lived enslaved is long gone, replaced by a modern day plaza.
But if you have the opportunity to visit Harvard Square, take a stroll over to the Cambridge Center for Adult Education (William). That is where you will find Brattle's first home. And it is no coincidence that the building is on Brattle Street. The road was named after the Brattle family. But Dick lived there for only a short time because his mother died when he was only two weeks old (Mass.). Soon he was given away to the David Jones family of Bellingham (Brattle). Many enslaved babies and children were given away in Massachusetts as proven by the number of advertisements in Boston newspapers (See previous article, Rose and Andrew Dewner). Although we do not know the name of his mother, his father was likely the adult Dick Brattle who was also enslaved by William (Cambridge 66).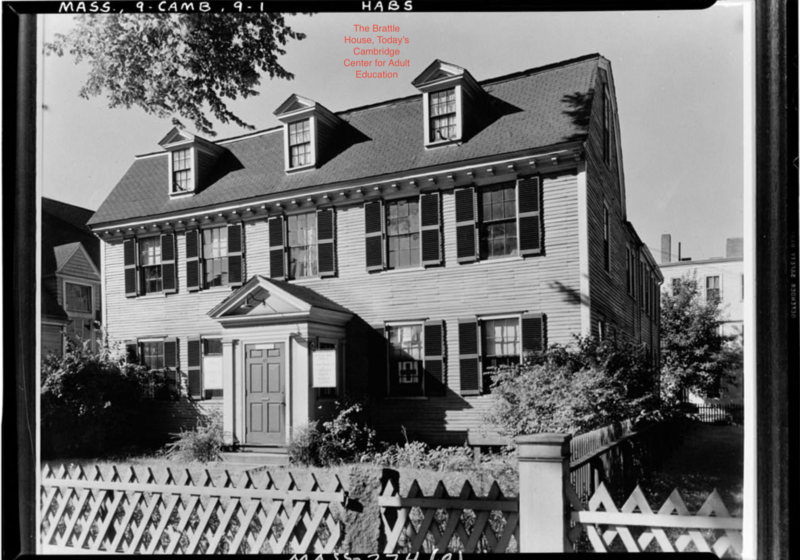 And his parents would likely have been proud to learn that he served in the Revolutionary War on the American side. He witnessed the first American soldiers to enter the Battle of Rhode Island. They were none other than the First Rhode Island Regiment, entirely consisting of Black and Indian men. In his own words:
"We were stationed at [Little Compton], till we went on to the Island, before We succeeded – the first that went on to the Island was a Black Regiment of Continental Soldiers (Brattle)."
We should all be proud of him. He not only fought in the foundational American war, but helped to build the town of Bellingham with his unpaid labor, became a responsible citizen in Vermont (Brattle), and advocated for the enslaved Bess Corbett.
Susan Elliott
Independent Researcher
N.B. If additional sources or interpretations are discovered, they may affect the conclusions in this article.
Works Cited
Ballou, Adin. History of the Town Of Milford, Massachusetts, Volume 1. Rand, Avery & Co., 1882, Boston, 579. https://archive.org/details/historyoftownofm01ball/mode/2up NOTE: Ballou describes the location of Rev. Amariah Frost's house. His son, Elias Frost, drew the map that illustrates this article. SEE Elias Frost below for map information.
Bellingham Historical Commission. "Stephen Metcalf House & Barn: 430 Hartford Avenue, 1777." "Identifying Bellingham's Cultural Resources.
Brattle, Dick. Revolutionary War Pension and Bounty Land Warrant Application File R. 1167, Dick Brattle, Conn. Mass. https://catalog.archives.gov/id/54040531. NOTE: See Transcript on separate webpage on this site of his sworn testimony. Also in the manuscript are testimonials to his good character, including one from a local clergyman.
Cambridge Historical Society. Publications VIII, Proceedings January 28, 1913 to October 28, 1913. https://archive.org/details/publications07masgoog/mode/2up
Crimpville Comments. Issue #226, Summer 2021. https://www.bellinghamma.org/sites/g/files/vyhlif2796/f/uploads/summer2021_published_copy_for_website_social_media_0.pdf
Frost, Amariah, 1750-1819. Amariah Frost, Jr., ledger, 1786-1801 (inclusive). Mss:83 1786-1801 F939, Baker Library Special Collections, Harvard Business School. https://nrs.lib.harvard.edu/urn-3:hbs.baker.gen:33842221-2017
Frost, Jr., Amariah. Diaries. In the Collection of the New England Historic Genealogical Society. Draft transcription by Susan Elliott, 23 Aug 2022. NOTE: Copies by request. Frost mentioned sowing, growing, harvesting and trading onions one hundred ten times in his diaries, corn eighty seven times, and potatoes forty two.
Frost, Elias. Chronicle of the Frost Family. Rauner Library, Dartmouth College. Hand drawn maps of Milford and Uxbridge. The map shown is a cropped photo of the original. To see the original map, click here. https://enslavednewengland.org/2022/08/23/dick-brattles-deposition-in-the-case-of-inhabitants-of-milford-v-inhabitants-of-bellingham-16-mass-108-15-tyng-108-1819-september-1819-at-the-massachusetts-supreme-judicial-court-massachuset/
Massachusetts Archives. File papers and extended records for 16 Mass 108 (Volume 16, Mass. Reports, page 108) in the case of Inhabitants of the Milford v. inhabitants of Bellingham in the September 1819 session of the Supreme Judicial Court of Worcester. County. NOTE: The file papers include Dick Brattle's depositions where he describes talking to Amariah Frost, Jr. and being questioned in court on how he learned that the Massachusetts slaves were free. For further information on the court case that Milford brought against Bellingham in regards to caring for Bess Corbett, SEE https://cite.case.law/mass/16/108/
William Brattle House.National Park Service
PHOTOGRAPH: The siege of Rhode Island, taken from Mr. Brindley's house on the 25th of August. United States Newport Rhode Island, 1779. [Place not identified: Publisher not identified, February] Photograph. https://www.loc.gov/item/2014649041/.
PHOTOGRAPH: General William Brattle House, 42 Brattle Street, Cambridge, Middlesex County, MA. Historic American Buildings Survey, creator, Virginia Barrett Price, transmitter, after 1933. https://www.loc.gov/resource/hhh.ma0758.photos/?sp=1&st=image